"Just get started. You won't get it right the first time anyway!"
How to Start Driving Now!
Sign up for a PDX and use your street car
Rent a car and do a Test and Tune at BIR
Register for driver training
Borrow a car and get driver training and certification
Buy a used car
Buy a new car
SCCA Road Racing in Minnesota
SCCA Minnesota | Just what are the classes that compete in road racing?
The following categories define the 27 classes that compete in SCCA Club Racing National events throughout the year and their participation totals determine which will take part in the Runoffs:
• Production – Series produced cars which are allowed a range of performance modifications while retaining their original design, structure and drive layout;
• Formula – The six formula classes are all single-seat, open-wheel race cars;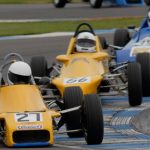 • Prototype – Purpose-built road racing cars with full composite bodies, yet underneath, these cars are pure racing machines;
• Sedan – Comprised of American muscle cars such as Camaros, Firebirds, GTOs and Mustangs with production-based chassis and modified suspensions and brakes;
• Touring – High performance cars which, because of their performance potential, required some changes to their wheel/tires and suspension components;
• Grand Touring – Purpose-built, highly-modified "silhouette" replicas of series-produced sports sedans;
• Super Touring – Designed to allow late-model production-based cars more extensive modifications such as including wings, engine swaps, etc.,
• Spec Miata – Provides the opportunity to compete in low cost, production-based cars with limited modifications, suitable for racing competition.
The best way to better understand these categories is to visit us when we are in our element, at the racetrack. Talk to as many people as you can to better understand their passion and see how it aligns up with yours….you might be competitors and just in need of the right car to show up and win.